Ashland 8" Wall Mount Shower set in Oil Rubbed Bronze Finish
Ashland 8" Wall Mount Shower set in Oil Rubbed Bronze Finish is the perfect choice for a bathroom that takes a classic yet minimalist approach to design. It has a streamlined look and appeal, and the wonderful and oil rubbed bronze finish sure adds a unique modern twist to the shower set. Aside from that, the shower mixer features laser printed dials that do not wear out easily and incorporates the latest ceramic disc technology for optimal performance. The handheld shower is just as great, with solid water pressure and a well-designed grip for better handling. If you are looking for a shower set that looks great and works great, with the added benefit of easy cleaning and maintenance, then the Ashland 8" Wall Mount Shower set in Oil Rubbed Bronze Finish is definitely a great option. High-quality brass body, and is finished gravity die casting. With high density,anti-oxidation, rust prevention, it meets the WHO standard. Fitted with high-quality ceramic discs for sealing pressure and use-resistant durability. It works 60 hundred thousand more without fail operation.
Ashland 8" Wall Mount Shower set in Oil Rubbed Bronze Finish Features:
Brand Name: BathSelect

Model Number: BS9353
Faucets Style: Classic
Valve Core Material: Brass
Size: 5.11"-7.87" (131-200mm)
Feature: With Slide Bar
Cold/Hot Water Control Type: Dual Holder Dual Control
Surface Finish: Oil Rubbed Bronze Finish
Showerhead Diameter: 8"
The faucet set is with an adjusted tube.
Mixer diverter valve: included
Hot/cold center pipe: 5.9"(15cm)
Hose/Pipe hand shower: Adjustable 5.1"-6.6" (13-17cm), 59"(150cm) max extended hose/pipe
Minimum pressure requirement: 1 Bar.
Passed professional test for cold, heat, high pressure with 12-20kgs.
The faucet is with years QA, Leakage Testing with High Pressure for every faucet Pre Delivery Inspection.
BathSelect® Manufacturer Warranty Information
Installation Instructions For Wall Mount Shower set in Oil Rubbed Bronze Finish





Before you begin, please read the installation instructions below. Observe all local building and safety codes.

Unpack and inspect the product for any shipping damages. If you find damages, do not install.
Please note all showers must be installed by a professional and certified plumber otherwise warranty might be voided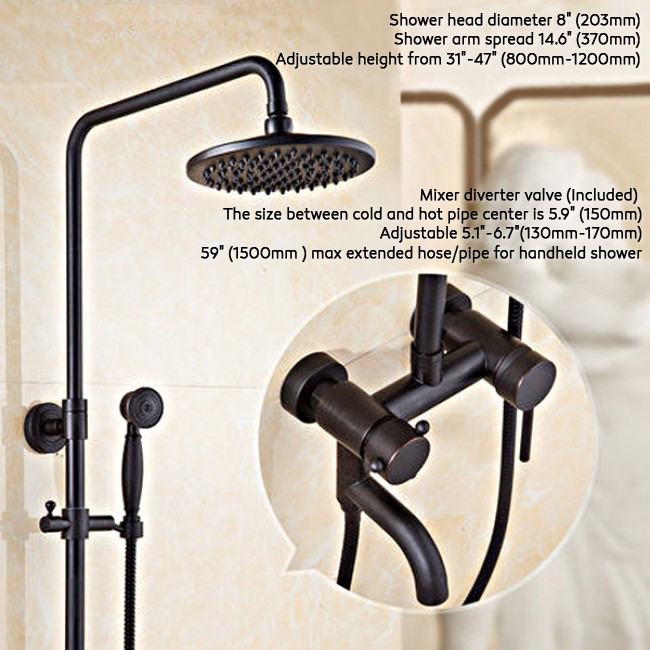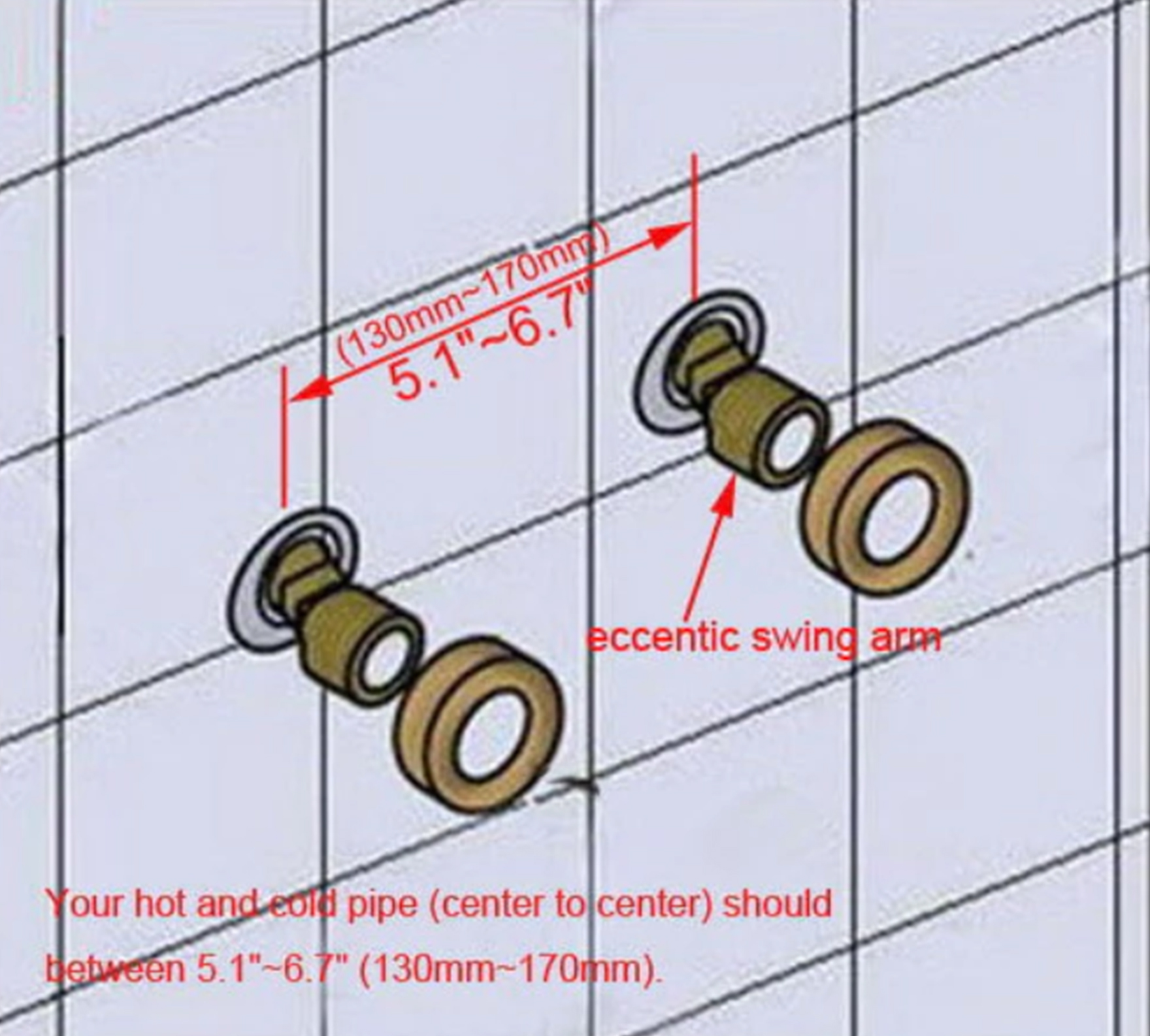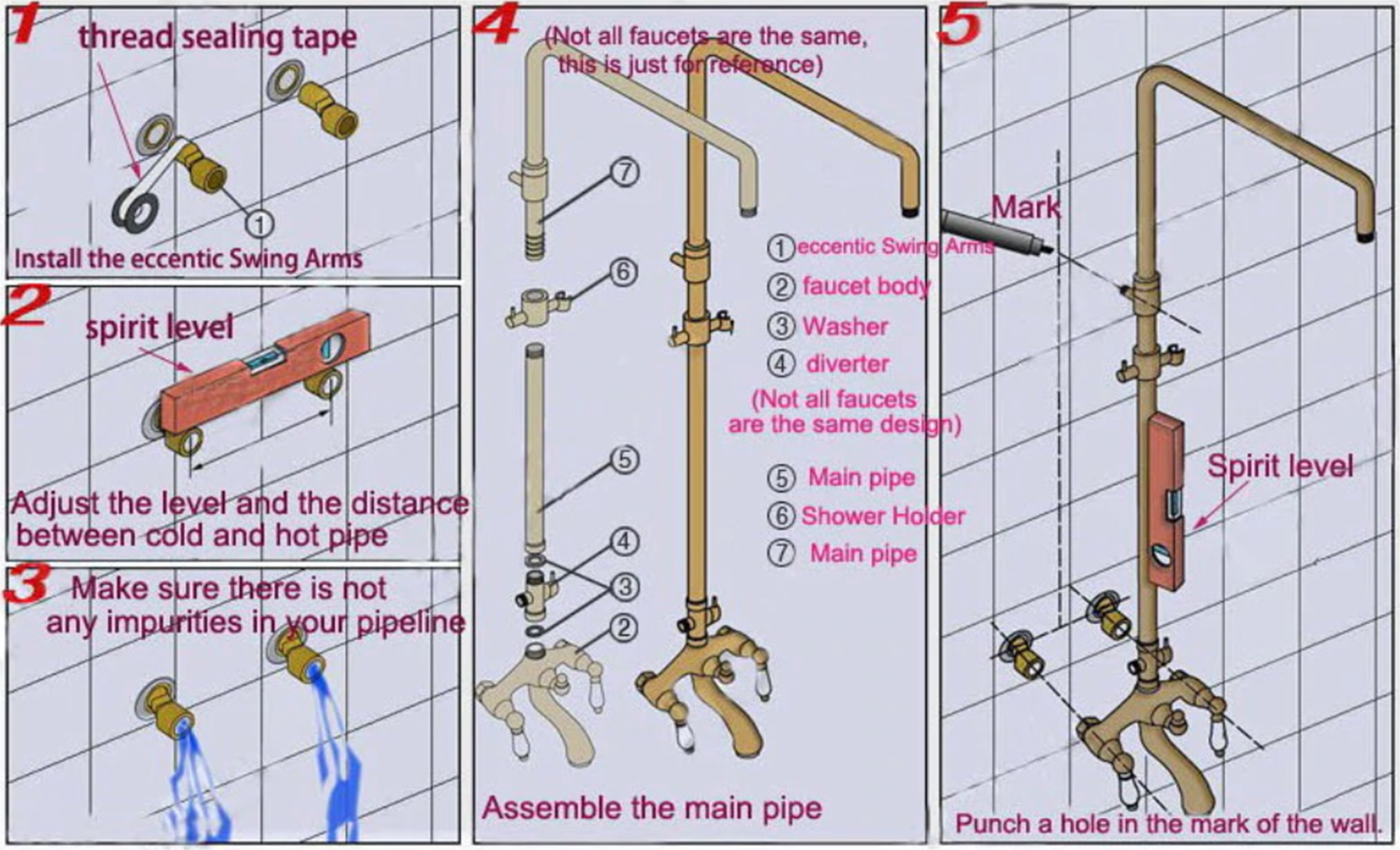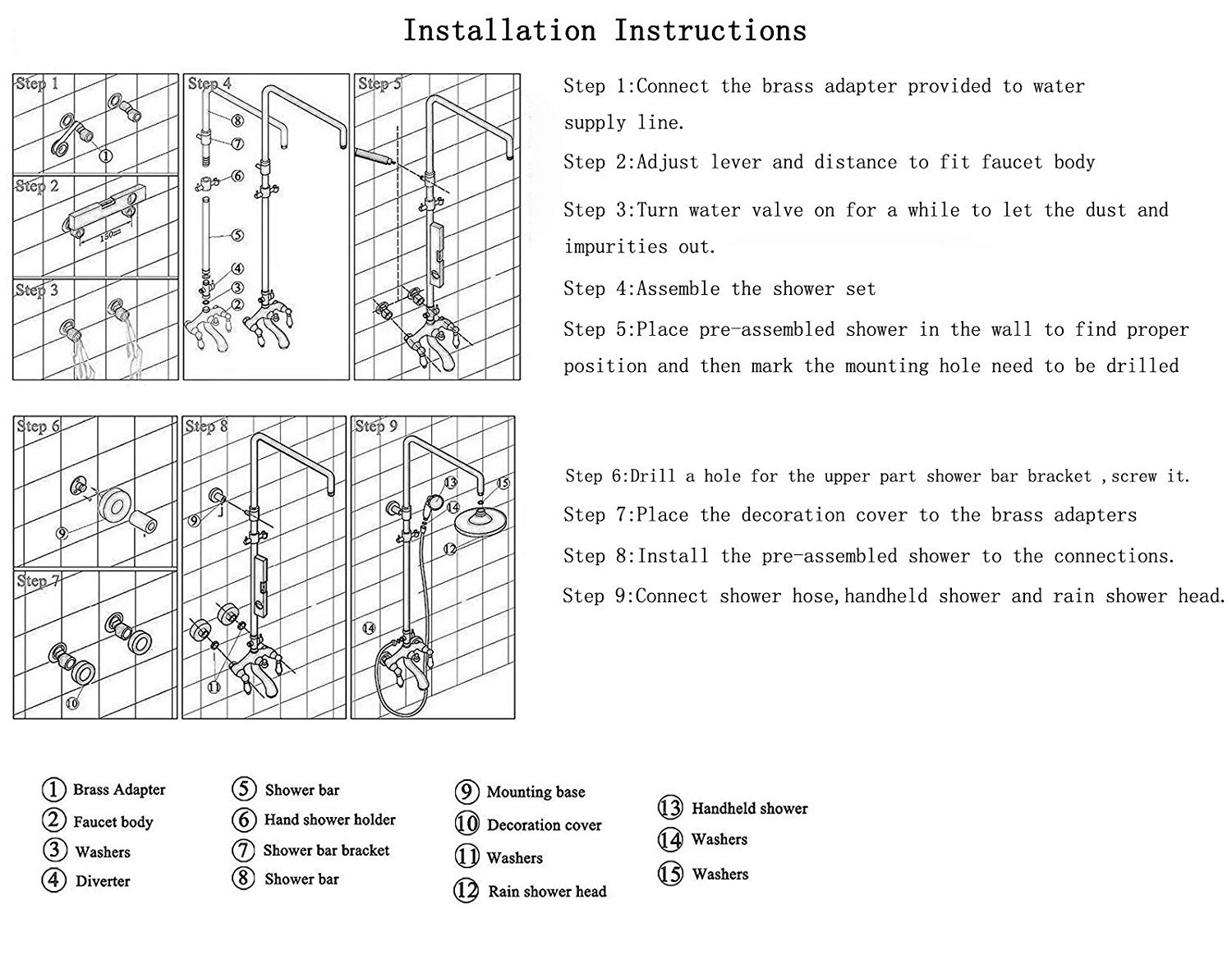 1.
Brass Adapter
Step 1: Connect the brass adapter provided to the water supply line.
Step 2: Adjust lever and distance to fit the faucet body.
Step 3: Turn the water valve on for a while to let the dust and impurities out.
Step 4: Assemble the shower set.
Step 5: Place a pre-assembled shower in the wall to find the proper position and then mark the mounting hole that needs to be drilled.

Step 6: Drill a hole for the upper part shower bar bracket, screw it.
Step 7: Place the decoration cover to the brass adapters.
Step 8: Install the pre-assembled shower to the connections.
Step 9: Connect shower hose, handheld shower, and rain shower head.
Shower Sets, Shower Heads, Motion Sensor Faucets, Bath Faucets, Bathroom Fixtures, Bath Sinks and Vanities.
Don't have all your product information? Browse all support topics below.