INSTALLATION INSTRUCTIONS
Before you begin, read the installation instructions below. Observe all local plumbing and building codes.
For the following installation instructions for your new shower head, it is assumed that any old fixtures have been removed and all rough-in work has been completed.
Unpack and inspect the showerhead for any shipping damages. If you find any damages, do not install. Contact Customer Service at 800-500-9895. If you need assistance while installing your new showerhead, call Customer Service.
We recommend consulting a professional if you are unfamiliar with installing bathroom fixtures and plumbing. Shut off the water supply lines where the new shower head is being installed.
TOOLS AND MATERIALS:
Groove Joint Pliers
Adjustable Wrench
Plumber's Tape
Dry Cloth
Screwdriver
Silicone Sealant
Damp Cloth
Allen Wrench (provided)
nstallation Instructions





Head Shower Installation

· Decorative cover
· Screws
· Pipe 1
· Pipe 2
· Screw
· Bolt
· Nut
· Water Inlet Pipe


hole size on ceiling

1. Drawing the line on the ceiling according to the above specification
· Decorative Cover
· pipe 1

2. connect pipe 1 with decorative cover


3.

Drill the holes on the ceiling according to the above hole specification and install 4 pipes.




4. According to the right drawing, install four-pipe 2 into pipe 1. Put the screw bolts through the hole on the side to lock pipe 2 with pipe 1.


5.

As the right drawing is shown, install four-pipe 2 on the head shower.

6. After fixing the showerhead on the ceiling, connect the shower hose with 2 water inlet on the showerhead back cover. The other end connects with the water outlet pipe in the wall.




Remarks: Ceiling mounted shower head come with fixing bar installation
1. Draw size on ceiling
2. Install fixing bar on ceiling


3. Install fixing bar on shower head


4. Put shower head bar on ceiling fixing bar.

Hand-Held Shower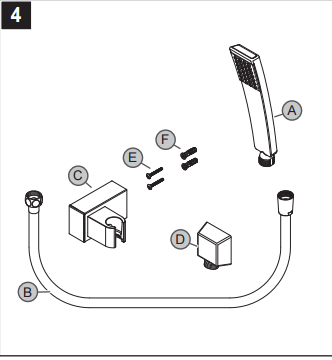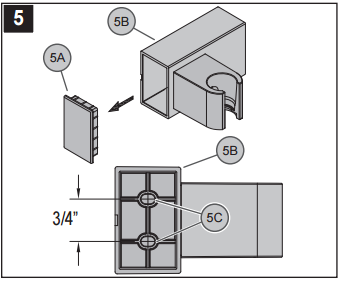 HOLE LOCATIONS FOR WALL MOUNT
Remove Front Cover (5A) from Wall Mount (5B). Use Wall Mount Screw Holes (5C) to place the desired location. Using a punch or awl, tap the screw hole locations. Holes must be vertically aligned.
ANCHOR INSTALLATION
Drill two 1/4" dia. Holes (6A). If installing into a studs drill two 1/8" dia. holes and do not use Anchors (6B). Insert Anchors (6B) into Holes (6A) and tap flush with wall.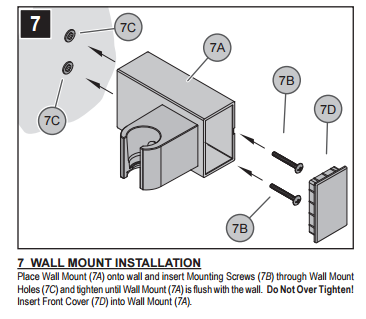 WALL MOUNT INSTALLATION
Place Wall Mount (7A) into wall and inset Mounting Screws (7B) through Wall Mount Holes (7C) and tighten until Wall Mount (7A) is flush with the wall. Do Not Over Tighten! Insert Front Cover (7D) into Wall Mount (7A)
DROP ELBOW & HOSE INSTALLATION
Apply PTFE plumbers tape on both ends of Pipe Nipple (8A) (not included). Screw Pipe Nipple (8A) into the elbow inside the wall. The Pipe Nipple (8A) is to project 1/4" – 3/4" from the finished wall. Screw Drop Elbow (8B) onto Pipe Nipple (8A) and tighten until Drop Elbow (8B) is property positioned and flush to the finished wall.
Place Rubber Seal (8C) inside Hex Hose Fitting (8D). Connect Hex Hose Fitting (8D) into Drop Elbow Outlet (8E) by turning Hex Hose Fitting (8D).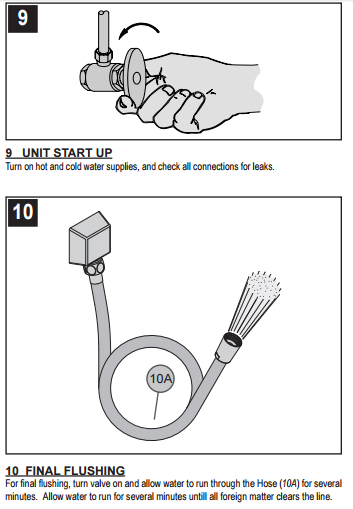 UNIT STARTUP
Turn on hot and cold water supplies, and check all connections for leaks.
FINAL FLUSHING
For final flushing, turn the valve on and allow water to run through the Hose (10A) for several minutes. Allow water to run for several minutes until all foreign matter clears the line.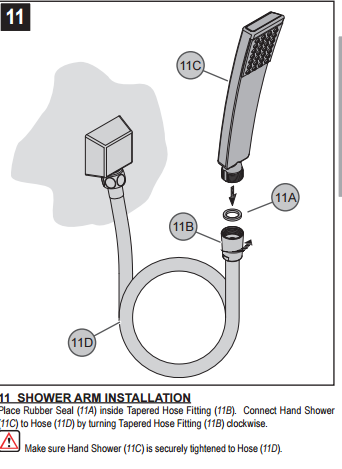 11. SHOWER ARM INSTALLATION
Place Rubber Seal (11A) inside Tapered Hose Fitting (11B). Conned Hand Shower (11C) to Hose (11D) by turning Tapered Hose Fitting (118) clockwise.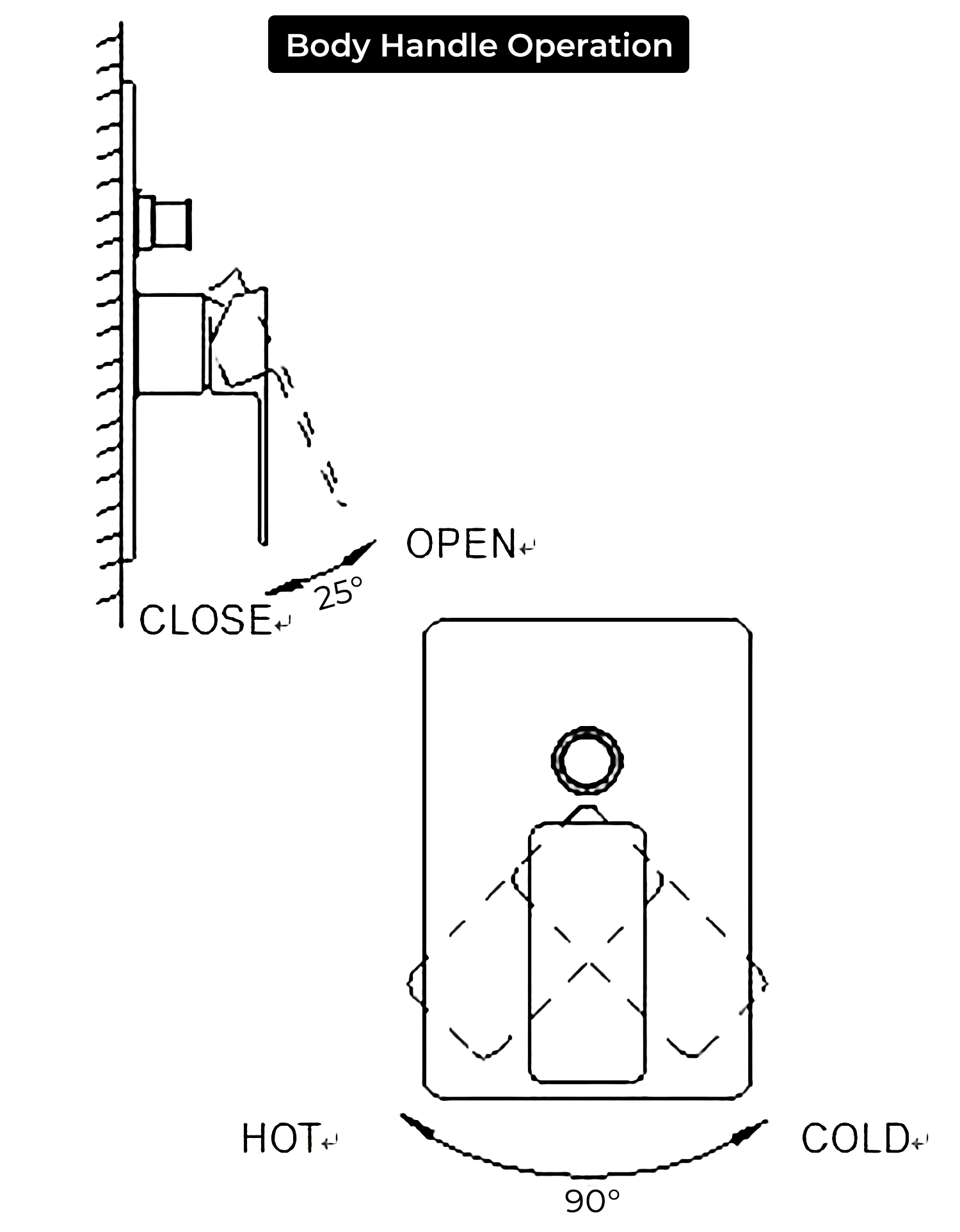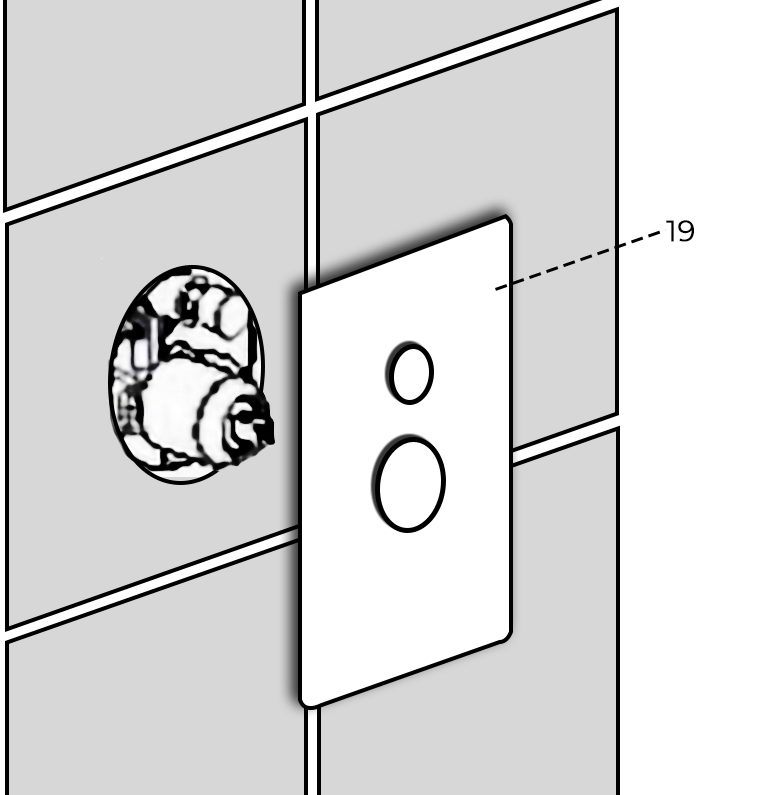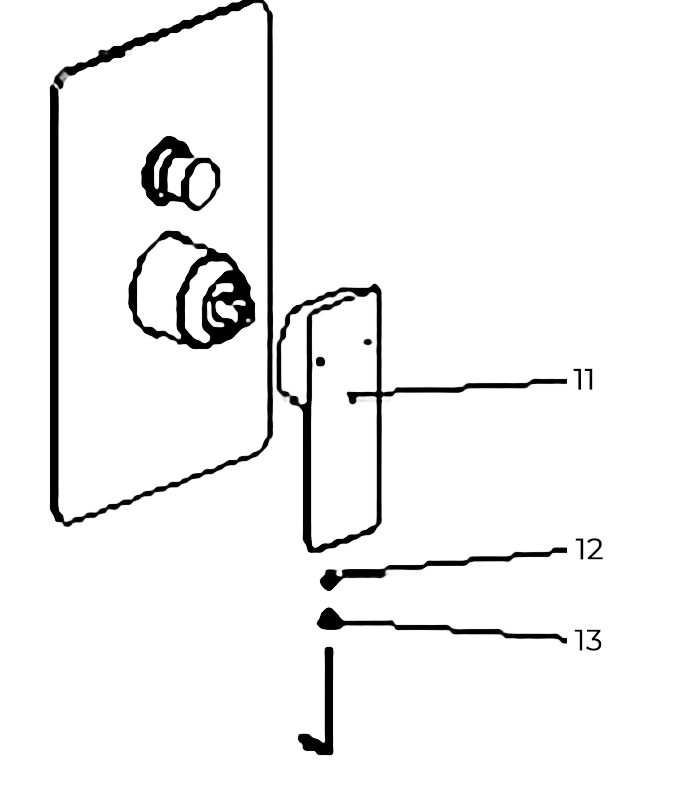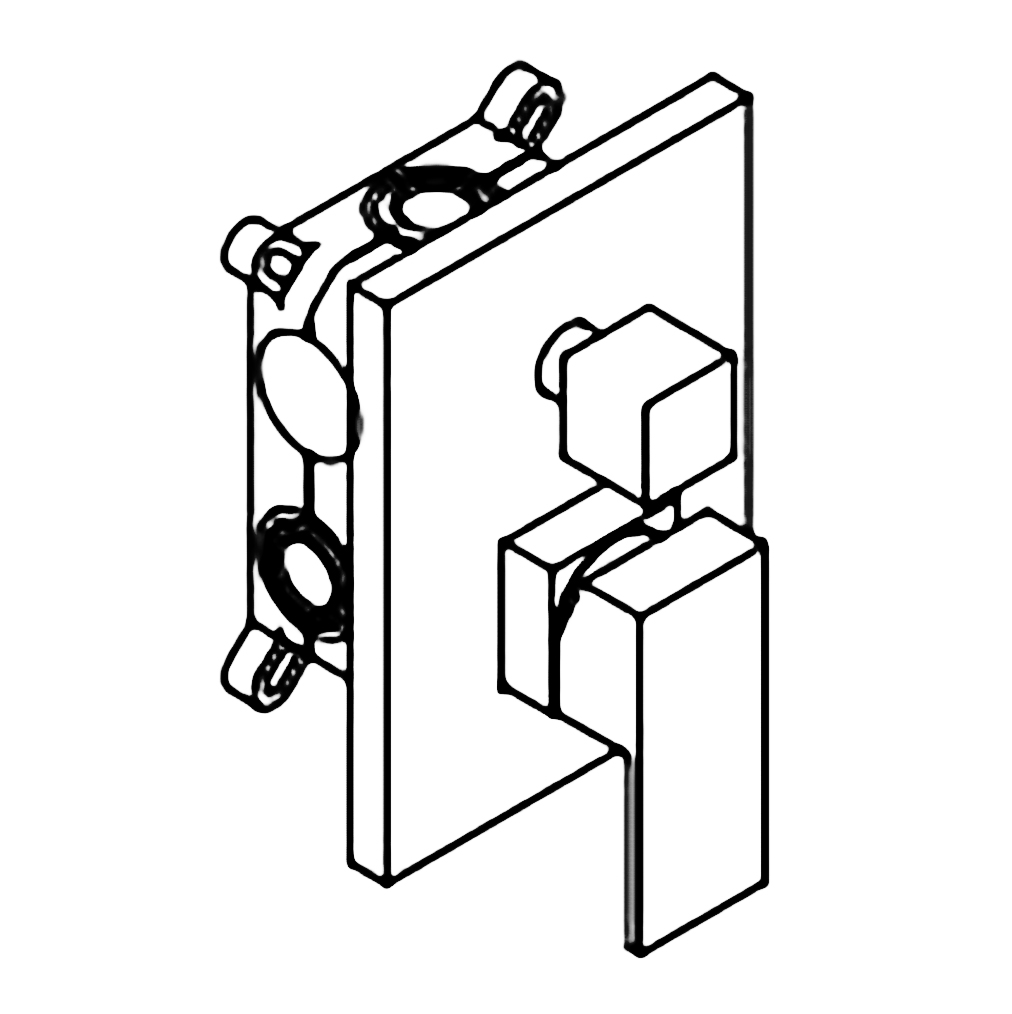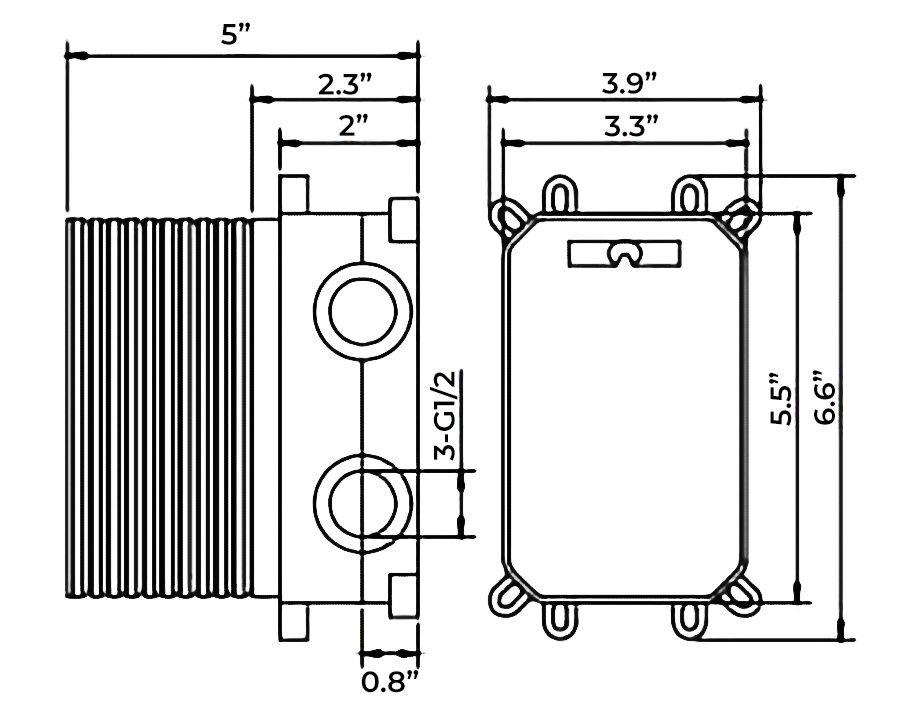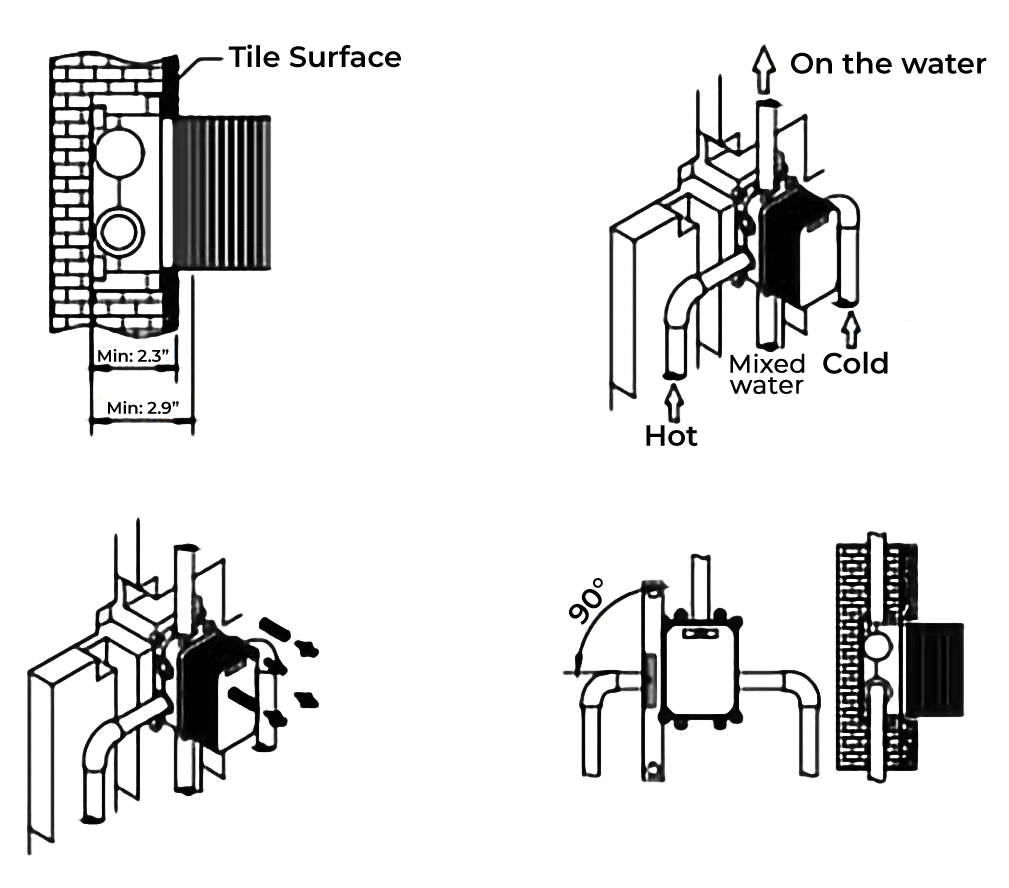 Basic-size, according to the embedded box to open the hole on solid wall, should consider installing the metope of the distance between 60-75mm, for example, after blank wall in the shop, the ceramic tile surface to increase the thickness of the 20 mm, so PiQiang in the depth of the hole should be chosen 40 to 55 mm.
Hole bottom should remain flat so that subsequent adjustment embedded box of vertical and horizontal convenient installation for the principle
Pay attention to the direction of the up and down or so embedded box, on the left by hot water pipes, right after the cold water pipes, pick up and down the mixed water pipes.
After the pipe connection, according to the pipeline arrangement, and open the corresponding channel slot tube in the blank wall.
Embedded box fixed before, to embed box and trial test and pipe water clean connection pipe, and test before mixing water channels should be open.
Test before opening the switch valve core, open the water to test around inlet pipe is connected closely with no leakage and the water pipe test after dosing open state, weather to test on the mixed water pipe connection without leakage. At the same time clean tube foreign bodies in case of influencing water control valve function.
It will be embedded in a box into the solid wall with a self-tapping screw that is fixed on the wall.
With parallel ruler for correction of embedded box of horizontal and vertical direction to embed box into a level with the ground, and metope as 90°. In the absence of good correction will influence the control panel installation effect.