BathSelect Luna Modern Design Oil Rubbed Bronze Square Multi-Color LED Rain Shower System
The Oil-rubbed Bronze LED shower system will turn your shower into one that looks exceptional. If you already have oil rubbed bronze in your bath fixtures, it makes perfect sense to invest in oil rubbed bronze shower head. Turn on the fun in your shower just by turning on the water, the LED lights will automatically light up and set the mood. They will even change colors automatically based on the water temperature. When in use you can even turn your bathroom lights off since this showerhead will illuminate your shower. All this with no batteries, everything is self-powered by a built in dynamo that takes advantage of the water pressure to create the energy to light the bulbs. The Oil-Rubbed Bronze Rain Shower Set comes complete ready to install (you only need 2 water entries)
Modern Design Oil Rubbed Bronze Square LED Shower System Features:
Brand Name: BathSelect
Model Number: BST-546-2ORB
Showerhead Sizes: 20x20", 24"x24", 31"x16", 31"x31", 40"x40"
Material: Stainless Steel
Finish: Dark Oil Rubbed Bronze
Showerhead Style: Contemporary Rain Shower
Mixer: 2 Way Mixer
Hand-held Shower: Included
Shower Head Mount Method: Ceiling Mount
Connection: 1/2" US standard (included)
Shower Arm: 4 Ceiling Mount Shower arm included
Shower Arm Size: 12"- 17"(cm 29~43)
LED light: Powered by Dynamo
Led light function: Automatic, dim and brighten when the pressure is adjusted
LED Color: Automatically changes according to temperature
Anti-scald
Showerhead Material: Stainless steel
This showerhead has a water flow rate of 2.4GPM (9L/min)
BathSelect® Manufacturer Warranty Information

Installation Instruction for Modern Design Square LED Rain Shower Set
Before you begin, please read the installation instructions below. Observe all local building and safety codes.

Unpack and inspect the product for any shipping damages. If you find damages, do not install.
Please note all showers must be installed by a professional and certified plumber otherwise warranty might be voided
Shower Head Installation
TOOLS AND MATERIALS:
Groove Joint Pliers
Adjustable Wrench
Plumber's Tape
Dry Cloth
Phillips Screwdriver
Silicone Sealant
Damp Cloth
Allen Wrench (provided)
INSTALLATION
Apply plumber's tape to the threads on both ends of the shower arm and slide on the decorative escutcheon.
Insert the new arm into the fitting in the wall or ceiling and twist to tighten. Finish tightening with your adjustable wrench. Wrap a dry cloth around the shower arm to protect the finish while tightening with adjustable wrench.
If your shower head does not feature a shower arm, connect the shower head directly to the fitting in the wall or ceiling.
Thread the new shower head onto the arm and hand-tighten. Hold the shower arm in place with groove joint pliers and finish tightening the shower head with your adjustable wrench. Wrap both in a dry cloth to protect the finish.
Before securing the decorative escutcheon to the wall, turn on the water supply to make sure that all connections are tight and there is no leaking. If no leaks are detected, continue with the installation. If leakage does occur, use your adjustable wrench to tighten the connections as necessary. If problems persist, contact Customer Service at 800-297-0232.
Apply a bead if silicone sealant to the back of the escutcheon and press firmly into place against the installation surface. Wipe away any excess sealant with your damp cloth.
Install the handle faceplate with the installation hardware.
Make sure the valve is in the OFF position and install your shower handle. Tighten the set screw in the middle or side of the handle to secure the handle in place.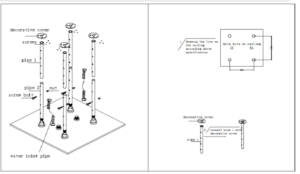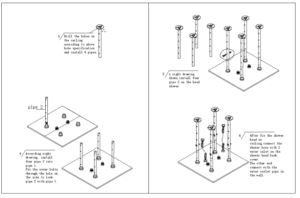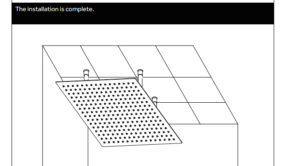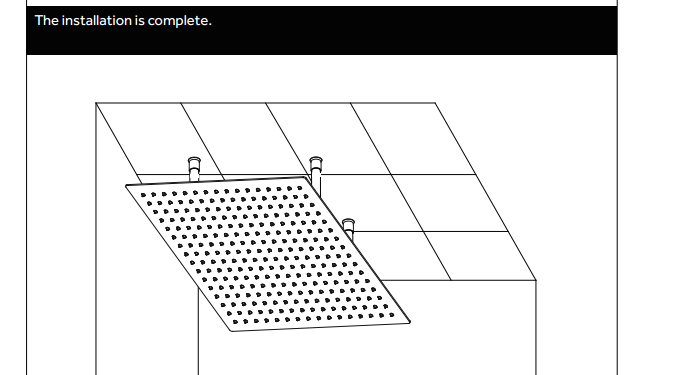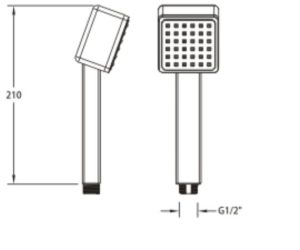 Shower Sets, Shower Heads, Motion Sensor Faucets, Bath Faucets, Bathroom Fixtures, Bath Sinks and Vanities.
Don't have all your product information? Browse all support topics below.