Installation Instruction For Lima Gold Waterfall Contemporary Bathtub Shower Faucet

Lima Gold Waterfall Contemporary Bathtub Shower Faucet

This set comes in a beautiful chrome and gold finish, which makes it one of the most popular choices for this type of bathroom fixtures. The faucet fits perfectly on the bathtub, and it is a great addition if you want to give your modern bathroom a touch of old classic style. It comes with a handheld shower for your convenience for ease of use. Only the best materials have been used: the faucet and the hand shower are made of solid brass and the valve core material is ceramic, for improved functionality and long-lasting.

Lima Gold Waterfall Contemporary Bathtub Shower Faucet Features:

Model Number: BS-WBBFT11
Number of Handle: 1
Finish: Chrome/Gold
Installation: Wall Mount
Installation Hole: Two Holes
Style: Contemporary
Cold and Hot Switch: Yes
Valve Type: Ceramic Valve
Overall Height: 7.8" (200 mm)
Spout Height: 35.8" (910 mm)
Spout Width: 1.5" (40 mm)
Spout Length: 7.8" (200 mm)
Hose Length: 5.9" (1500 mm)
Faucet center: 3" to 6"
Faucet Handle Material: Zinc Alloy
Handshower Material: A Grade ABS Plastic
Faucet Body Material: Brass
Handshower Included: Yes
Valve Included: Yes

BathSelect® Manufacturer Warranty Information

Installation Instructions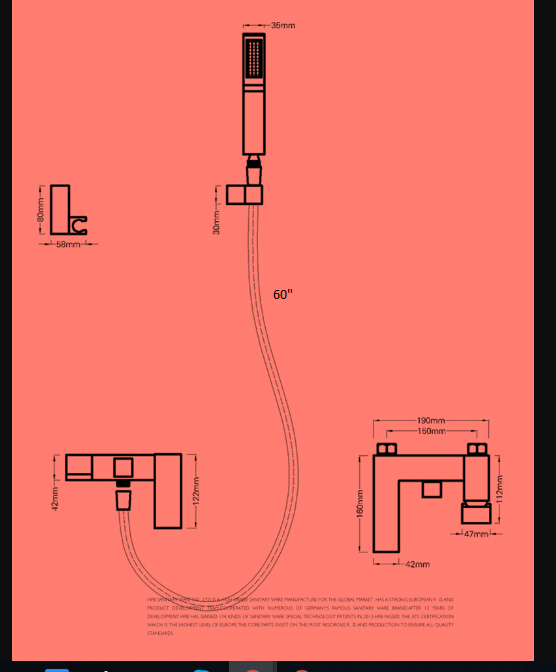 Materials required for Installing a Wall-mount Bathroom Faucet:
A faucet
Faucet handles
Hot tap and Cold tap
Allen wrench
Drill machine
Pencil and ruler
Step 1-Connections And Water SupplyHiring a plumber to handle the connections and water supply is very important especially if you're replacing a conventional sink mounted faucet. The internal water supply lines have to be relocated in such cases.


Step 2-Determine the Faucet Height

Once the plumbing is complete, you need to decide at what height you want to install the faucet. When the right height is decided, be sure to mark it with a pencil.

Always take proper measurements. There must always be a 1 inch gap between the bottom of the faucet and the top of the sink. If the gap between the top of the sink and bottom of the faucet is more than 1 inch, the water will splash out of the sink.

Step 3: Drill Holes In The Wall

Once you have marked the level, you need to drill holes in the wall for fastening the bolts. Before you start to drill, verify that there are no pipes or any other wires behind the location.

Step 4: Attaching The Spout

To attach the spout to the wall plate, you need to position the washers and other hardware as instructed by the manufacturer. Once you attach the spout to the wall plate and position the washers, you need to tighten the bolts using an Allen wrench.

Step 4: Fasten The Spout And Wall Plate To The Wall

Once you have attached the spout to the wall plate, you need to position them on the wall. Position it in the right place from the holes you drilled previously and fasten the bolts into the wall.

Step 5: Attach The Necessary Hardware

After positioning and fastening the spout and wall plate to the wall, you need to attach the faucet handles and hot and cold taps. Tighten the handles using your hand in a clockwise motion. Make sure they are secure before you begin to use them.
Shower Sets, Shower Heads, Motion Sensor Faucets, Bath Faucets, Bathroom Fixtures, Bath Sinks and Vanities.
Don't have all your product information? Browse all support topics below.